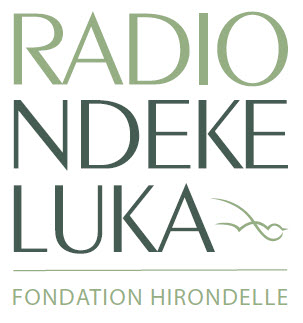 Radio Ndeke Luka (RNL) is the only Central African media that produces and broadcasts independent and professional news in French and Sango throughout the country. Created and supported for 22 years by Fondation Hirondelle, it targets the general population across the whole country. It offers 13 daily newscasts, features, debates, entertainment, music and practical information.
RNL broadcasts live 24/7 throughout the country with 13 FM transmitters (in Bangui, Berberati, Bouar, Bambari, Bozoum, Bossangoa, Ndele, Mobaye, Bangassou, Bria, Beloko, Birao and Obo). Twenty community radio partners also rebroadcast Radio Ndeke Luka programmes between 5:30 and 7:00 p.m. A one-hour daily shortwave broadcast is also provided through a local partnership. All programmes can be streamed or podcast on the website radiondekeluka.org.
RNL is the radio of Central Africans. An audience survey conducted at the end of 2020 by the Kantar Institute found that Radio Ndeke Luka is listened to daily by 63% of the population aged 15 and over in the areas where it broadcasts, and by nearly 84% of the population every week. Its information is recognized as reliable by 89% of listeners, and 94% consider it "useful" or "indispensable"
---
Financial volume
2 719 426 CHF
Sources of funding
• European Union (Fonds Bêkou + IcSP)
• Switzerland (SDC mandate)
• Switzerland (SDC Programme contribution)
• UNDP
• Fondation Nicolas Puech
• UNICEF
• Private donations
• Income-generating products
---
Journalism and media literacy
The Central African Republic remains in a complex political and security crisis despite the February 2019 signing of the Political Agreement for Peace and Reconciliation (APPR) and the organization of presidential and legislative elections in 2020 and 2021.
The Central African media sector is very fragile and is exposed to misuse, including disinformation, the propagation of false news and hate speech.
An impact study commissioned by Fondation Hirondelle and conducted in Bangui, Beloko, Birao, and Obo under the direction of Dr. Jeffrey Conroy Krutz of Michigan University indicates that for 49% of respondents it is difficult to distinguish truth from falsehood, and that disinformation is a real threat to the country (42%). In the Central African Republic, radio is the main channel of information. 70% of the population never has access to the Internet. Among respondents, 62% say they have full confidence in Radio Ndeke Luka (RNL), the leading media outlet, ahead of Radio Centrafrique (34%) and Radio Guira (38%).
The setting up of an investigation unit within RNL and an awareness campaign #StopATènè ("Stop rumours" in Sango), as well as strengthening the professional skills of all actors in the sector has been a priority in 2021 in this context
We like Radio Ndeke Luka very much because it changes our way of seeing things. It opens our eyes on misinformation and how we have to verify information before we act. Awareness must continue.
Testimony gathered during a focus group organized in the village of Voudambala, near the town of Mbaiki, with a group of 12 women aged between 15 and 29 years old.
Six public broadcasts were produced on media awareness. The one in Bimbo in August 2021 was attended by several thousand people. Forty community awareness sessions were also held, reaching 800 people in six localities across the country. During focus groups conducted to evaluate the effects of these sessions, more than 80% of respondents stated that they had changed their behaviour in the face of rumours and had adopted the right reflexes.
Radio Ndeke Luka's broadcast capacity was increased in 2021 with the installation of three new transmitters in Beloko, Birao and Obo. RNL now reaches all border areas facing population movements. RNL has also increased its network of partner radios from 12 to 20 radios.
The entire Radio Ndeke Luka team, journalists, technicians, administrative and support staff, are mobilized every day in a complicated and sometimes risky context to continue to ensure this mission at the service of the public